On the second floor of Taman Jurong Market lies Fan Shu Zhou (蕃薯粥). The store is named after Teochew style sweet potato porridge, include a huge variety of dishes with strong Teochew influence on the food.
Famed Braised Pork Intestine at Fan Shu Zhou (蕃薯粥)
Fan Shu Zhou (蕃薯粥) is famous for their pork intestines, we ordered an assortment of pork ingredients with the usual Kwap Chap items like braised pork belly, intestines, skin and beancurd. The assorted pork cuts come with a generous portion of pork intestine. Infused with a savoury soy gravy, the pork intestine is soft and chewy. Each braised pork belly slices is slightly fat. Braised in the same gravy, meat is so tender that simply melts in your mouth.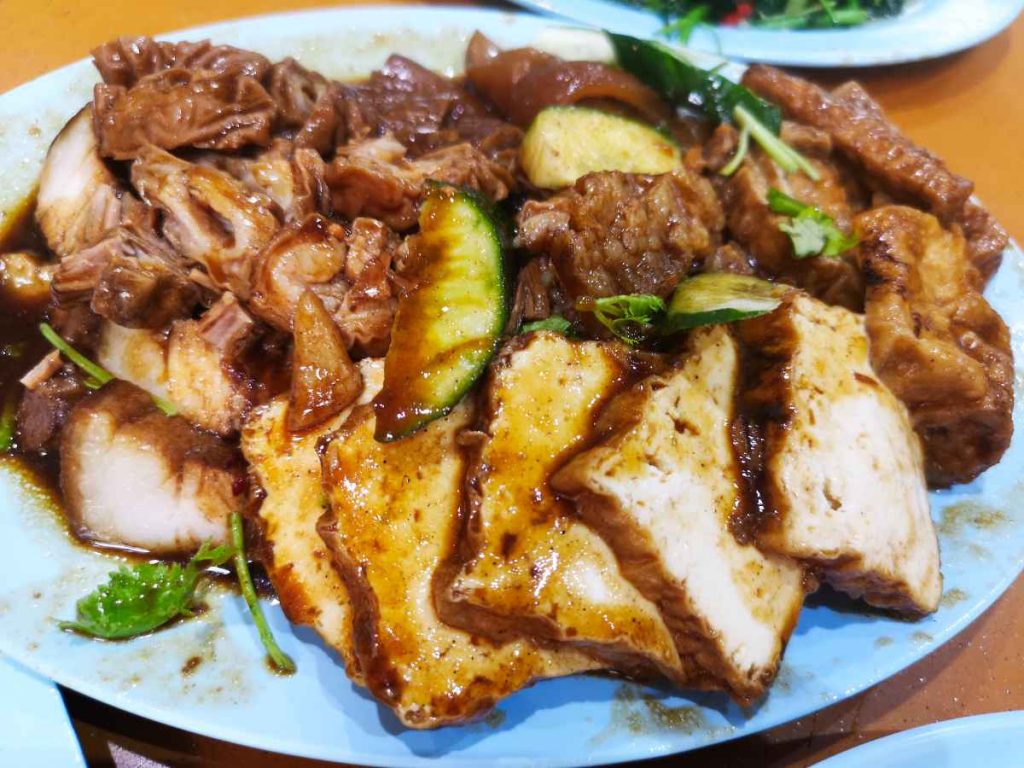 Steamed Rabbitfish 白肚鱼 at Fan Shu Zhou
Being unique, Fan Shu Zhou uses Rabbitfish 白肚鱼 as their steam fish. More commonly, Teochew porridge stalls will pick pomfret as their preferred steam fish dish. White-Spotted Rabbitfish that we ordered is approximately 12cm long that is considered average length. As the fish is properly cleaned and gutted, there is no bitter taste. Compare to pomfret, its meat has a very mild, delicate flavour.
Conclusion
For those who are in the west and craving for Teochew Porridge, can visit Fan Shu Zhou for their range of Teochew style dishes at affordable prices. For the 4 of us, we spend about $28. Besides the 2 dishes, we also order steamed dongcai 冬菜 pork mincemeat, crispy chicken and potato leaf. Rabbitfish and braised Pig intestine left a great impression and is highly recommended when you visit this outlet.
Address
Taman Jurong Market & Food Centre, 3 Yung Sheng Road #02-80 , S618499
Cuisine
Chinese, Teochew
Opening Hours
Mon – Sat: 06:00 – 22:00
Closed: Sun